What I've learnt in the last 40 weeks
What is worth it. What isn't: A guide to shopping for your changing body and how to style it, from underwear up
I started my pregnancy at the peak of the Winter lockdown which suited me and my wardrobe needs at the time perfectly: Everyone was living in lounge wear, myself included, what better way to start growing a baby than being cosy and comfy? However as we began to cautiously emerge back into a wider world,  coupled with an ever changing body, I found it more of a struggle to work out what to wear on a daily basis to be comfortable but also feel like myself. 
Shopping for my changing body became for the first time an experience where I felt alienated and less confident, vintage and second hand was less accessible with sizing proving contentious in particular. For the first time in years I felt the draw of the high street for convenience, yet so many of the 'true' maternity clothes these retailers were offering were frankly just frumpy, unstylish, unconsidered.  Fashion has always been a huge part of my life and identity, and I didn't want to feel that I had already abandoned my sense of self to the baby that was slowly taking over over my body, I still wanted to look like 'me'. Sadly the maternity sector is heavily neglected by a lot of main stream retailers not only in terms of design, but also instore experience, the obvious complete lack of care put into these areas was nothing short of down right depressing ( I'm looking at you H+M Stratford). There are course many specialist maternity brands, but I found that a lot of the styling felt a bit frumpy/ old fashioned, and I was dubious how much wear I will get in the long run from these options.
Trying to have a sustainable and low impact wardrobe is a an ongoing effort, the last thing I wanted was to return to a position of disposable shopping clothing just to cover me in these months. I have found myself largely drawn to items that are non-maternity I can wear now and post pregnancy and in particular I've highlighted a few products that have really stood out for me. 
Whilst this is a guide focused on shopping and styling, it would be remiss of me not to highlight some of the clothing rental schemes out there. In addition to the likes of By Rotation and Hurr there are some specialist Maternity rental sites out there such as @forthecreators and www.bellesandbabes.co.uk which are worth a look.
Underwear
I'm starting with this because it is the most important thing, this is going to make the difference between feeling comfortable and confident all day or not, and never in my life have I demanded comfort from my under wear so much.
First of all, if you are reading this at the start of your pregnancy or even half way through, just to get expectations in order all I can say is things just keep on growing and growing! Even when you think you no longer can get any bigger you probably will.  So far my boobs have gone up over two cup sizes and my back size has increased 4 inches from my pre-pregnancy size. At the beginning of my pregnancy I was able to make do with a variety of supportive crop top / lacy bralet types, but this stopped being the viable by about 18/20 weeks. So many maternity bras on the market are just frumpy so finding something I liked and was comfortable has been harder than I thought. Personally I've never worn a full cut bra in my life so I don't know why the assumption seems to be that I would suddenly want to start doing that now just because I'm growing a tiny human? Heaven forbid I may want to still feel sexy and be comfortable, whilst I also happen to be pregnant.
I can't recommend the below Calvin Klein Invisibles style enough, the fabric feels really premium and although it is lightweight it is really supportive and has washed well.  The fittings of S/M/L etc have worked for me as I've continued to get bigger, more effectively than buying a traditionally sized bra. I've been fine with continuing to grow with the size Small since I bought it as there is plenty of give in this.  The cut to be one of the best on the market, it is flattering, and just sexy enough.  I have bought it in both colours and am really happy to wear it now and hopefully for breastfeeding (if I can ) after. Very currently have some sizes on sale online at a reasonable £16 which I've linked below (not sponsored just trying to be helpful).
I also bought the logo band one for a hit of 90s nostalgia, it is slightly more padded and more of a plunge cut than the above. It's worth noting this stretches slightly less than the 'invisibles' bra due to the materials and construction so I sized up on this one to a Medium avoid any digging in.
For a strapless bra I tried many options, the comfiest I found is a wireless multi-way style from M&S which is gives a nice appearance but isn't excruciating to wear (unlike virtually all the others I tried). I would say though, if you can avoid the need for a strapless bra this is it the time to do it as they all felt pretty awkward on.  This styles part of the 'Body range' which is all about giving a smoothing appearance under clothing and runs up to an E cup.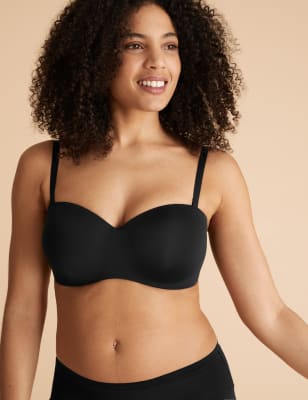 For knickers I have also tried and tested many, with comfort being my top priority.  Of al the options I tried M&S came out winning with their new Flexifit range. The fabric is soft with a unique four way stretch and doesn't dig in anywhere due to the way they have been cut and designed.  Again I would advise that you don't bulk buy too much at once, if you are anything like me you are likely to go up several sizes as you progress through your pregnancy.  Alternatively just bite the bullet from the outset and buy 2 sizes bigger rather than just one. My other tip is regardless of your normal rise preferences opt for low rise so you have more room for that expanding tum. 
Flexifit also do crop top / bravest that may be worth a spin, but I haven't tried them as they are too full coverage for my tastes.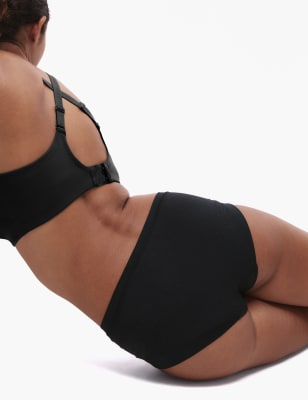 Swimwear
With certain bikinis (triangle/string style) I have managed to just about get away with adjusting them as I get bigger, albeit the top part is definitely a bit more revealing these days.  For a proper swimsuit I splurged on a Hunza G as it is one size fits all, it may be expensive but the quality is lovely and I anticipate having it for many years to come.  If you look around you can probably get a discount on them as well e.g. I managed to get 15% off mine from Browns.
Considering swimming is one of the few things I've been able to keep doing all the way through my pregnancy and really enjoyed, I think its been worth the investment and it is a small British brand made in the UK so it feels nice to support them.  I have recently spotted a similar looking one size fits all type of swimwear brand, with very similar looking fabric to Hunza G called You swim. This brand is slightly cheaper and has a few different cuts in the range and is also made in Britain.
Inspiration L to R: Hunza G, @myprettyfam & @wethepeoplestyle in @you.swim 
Jeans
Ok controversial here as I LOVE jeans and find them integral to my normal look but frankly in pregnancy my advise is simply don't bother. Maternity jeans are disappointing in fit and style and the amount of time they are actually comfortable is a pretty brief window. I found they are invariably either falling down a bit or digging in, also the styling options out there are totally dominated by a skinny cut even though this doesn't reflect any of the current trends on the market. I would honestly suggest either trying to max out your current jeans with the hair bobble trick, or buying regular jeans in larger sizes and persisting with those for as long as possible if you really can't let go of jeans yet. Alternatively if you really feel you need a pair of maternity jeans in your life, I'd look to second hand market places such as Ebay as I would be surprised if you get more than one or two months wear out of them before you give up and given that the styling really hasn't moved forward in this market you'll find the same looks second hand as you do new.
Dungarees
Yes they are a maternity cliche but where jeans fail on comfort due to the fit / waistband issues, dungarees will succeed! Also if you haven't noticed dungarees are definitely having a moment again so there is loads of choice and styling inspiration out there.  Dugarees aren't just limited to denim either, there are lots of fabric and print choices out there as the moment and this is something you can buy off the high street or vintage easily.
You definitely do not need to buy maternity specific dungarees, just size up.  I got my second hand/vintage pair early doors in my pregnancy from @bediddy and bought them 3 sizes larger than my usual size and just wore them super oversize to begin with, they will work well for after the baby arrives too. 
Images L to R: @livpurvis @themumlife_styled @sarahcorbetwinder
Loungewear; Leggings and cycle shorts
Loungewear is clearly not going anywhere and why should it.  Pregnancy is definitely a time to embrace all things comfort.  When buying cycle shorts of leggings if you don't fancy a maternity specific style look for seamless knit technology as you will find that these will be more forgiving than most as you grow. This is a type of knit construction and it typically (but not always) comes in a rib form and basically you'll find it expands better than the average jersey used in this type of garment.  Whilst seamless knit tech is something you will find more commonly used by premium sports brands like Nagnata or Prism who have made it the cornerstone f their brands it is still available on the high street. I have a pair of cycle shorts from Zara that are in this type of knit from pre-pregnancy that I am still comfortably rocking so cheaper options are out there. It may to be the most obvious thing to detect when something is in this type of knit versus a regular knit but retailers do tend to use the word seamless in their descriptions iso keep an eye out for this when shopping.  
I like to pair my leggings and shorts back with oversized shirts and sweats that I already had in my wardrobe. I have also layered these up at times with some ribbed vests which I did buy from H+M Maternity section when I got bigger to just give me a proper fit and coverage.  I also love seeing that high low dressing where leisure wear is back with a blazer, this feels both comfy and cool.
Joggers I have continued to wear, I have just sized up and worn under my belly rather than buy maternity specific. Again oversized shirts and knits from my own wardrobe really helpful to style back with these. 
Images L to R: @wethepeoplestyle @evachen212 @_jeanettemadsen
The buffet dress / the house dress
Right now the whole buffet dress/ house dress trend is absolutely ideal for pregnancy. The plethora of options out there from high street to high end really make it easy to buy something you like that you can wear now and after your pregnancy, with plenty of space to grow.  The only issue I had with a few of my longstanding favourites is that they did get too tight over the bust to be comfy all the way through, so if you're shopping at the start of your pregnancy I would consider going for the next size up.  Other shopping considerations, if you do plan to breastfeed these wardrobe wonders may end up being a little bit more awkward to wear post pregnancy so its worth looking for button front stylings, Vintage Saybury's are also perfect here with their front fastening features.
 I treated myself to a new dress from Clary and Peg (who I found via the Daily Dress Edit) who specialise in clothing you can wear before and after pregnancy, the Phoebe dress is really voluminous and the clever smocking at the top and button fastening mean that it is breast feeding friendly and grows with you were needed. It can be worn cinched in with the self tie or just loose and voluminous and the skirt has pockets (they also have a range of dungarees which look nice). 
The fitted dress 
Contrasting to the above, some days I have just felt huge and actually what I've really craved is a more streamlined silhouette.  It may sound counterintuitive but wearing something more fitted, even when you feel the size of a house, can make you feel and look slimmer. There is something nice as your bump develops in showing it off.
Key considerations to getting this to work are; rib, knit, jersey fabrics for ease. If you are looking at a dress in a woven fabric game changer details include smocking, bias cuts (e.g. in a slip dress) as this will give more as you grow,  empire line cuts, and wrap dresses. Looking for these features gives you more adjustability and stretch, and you should find you are able to wear them after the baby arrives also.
Images L to R:  @pernilleteisbaek @ashleygraham @_jeanettemadsen_
The maxi skirt
I decided to buy a long plain black ribbed maxi skirt early in my pregnancy which has stretched enough to wear under or over the bump comfortably. This is a look I'm seeing worn quite a lot at the moment and I like the fact it feels more versatile in a way than having a dress. I have worn mine with a plain oversize long tee when worn under the bump which felt nice and minimal and 90s, but I also like to wear with other tops tucked in now I am bigger 'get the bump out'. If you like this look I recommend again looking for knitted/ jersey tube styles and sizing up, sarong and wrap styles work well too.
 Images L to R: @monikh @paraysatis @_jeanettemadsen_
Styling - don't forget what you already have can make a huge difference!
Layering up with jackets, cardigans and shirts, and great accessories you already have is a great way to elevate and make an outfit feel more you.  
 During the crazy roller coaster experience that is pregnancy anything that can put a bit of a spring in your step and make you feel like the best version of yourself is the ultimate goal. I hope that these tips have helped to give you that sense of self  and help you spend more consciously.